Runner Check In
---
Early Check-In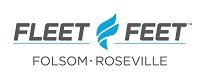 Friday, March 6, 2020
10:00 a.m. - 7:00 p.m.
Fleet Feet Folsom
6610 Folsom-Auburn Rd
Folsom, CA 95630 (view map)
Friday pick up is strongly encouraged.
Race Day Check-In
Saturday, March 7, 2020
Cool Fire Station
7200 Florian Court
Cool, CA 95614 (view map)
6:00 a.m. - 7:45 a.m. (inside the main tent)

*If you have checked in on Friday, you do not need to check in on Saturday morning.
Spring forward and shop for your trail footwear and apparel! Come early and pick up your registration packet on Friday, March 6th at Fleet Feet Folsom. Show your bib upon checking out at the register, and receive 10% off your entire store purchase (some exlusions apply).
Why come on Friday?
10% off from our friends at Fleet Feet Folsom AND
4 lucky winners will have the chance to win a lucky pass in to the 2021 WTC 50K Endurance Race. YES, you read that correct! You will bypass the lottery and receive a complimentary entry! AND
5 lucky winners will have the chance to win a $25 Gift Card from Fleet Feet.
The first 100 runners to check in will receive a sweet WTC water bottle!!
How "Cool" is that?
Here's how it works:
One lucky winner for the $25 Gift Card from Fleet will be drawn at random on each half hour (11:30AM, 12PM, 12:30PM 1PM and 1:30PM) of packet pick up.
One lucky winner for the WTC 2021 certificates will be drawn at random on each half hour (3:30 PM, 4:30 PM, 5:30 PM and 6:30 PM) of packet pick up.
You do NOT need to be present on Friday to win for any/all prizes, however you MUST have picked up your bib on Friday. All raffles will be drawn from those that picked up their own bibs.
Certificates are non-transferable and must be used for the 2021 WTC 50K event

Synchroknit Gear Check, presented by WigWam:
Every runner will receive an official gear check finish line bag at Fleet Feet packet pick up (or race morning if you choose this option). You will write your bib number on this bag and race morning drop your bag with our Synchroknit ambassadors at The Synchroknit Gear Check Powered by Wig Wam. In addition to your gear check bag, you will receive a Synchroknit sock card and you'll want to take a look at how cool these socks are because 20 of you, yes, that's right, 20 runners will be lucky winners and receive a pair of Synchroknit socks. If you are one of our 20 lucky winners, you will pick up your socks at gear check on race morning.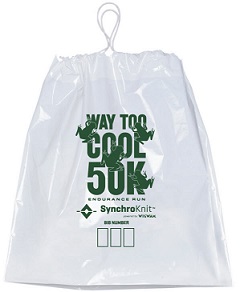 3 Reasons to do this!
We check it in and retrieve it for you. This will ease your mind on race morning.
A cup of joe will be given to the first 200 runners who check their bag in! (please one cup per runner)
Placing your bag in our official gear check, gives you chances to win the following:

Synchroknit Socks and Prizes
(10) $25 off vouchers for any NorCalUltras race – 2020 events
Race Start
8:00 a.m. for all. There will be NO early starts.

Chrono Track Timing, Runner Splits and Results: The Way Too Cool 50K Endurance Run will use Chrono Track (B-tag) timing provided by Capital Road Race Management. All runners will be given their bib and B-tag upon checking in either Friday or Saturday. The timing mats will be located at the Start, Firestation (Mile 8) and at the finish line. Please be sure to cross each mat at the three locations. Overall and age division results will be posted at the finish line at the Results Tent. Runner splits will be available and posted on the Way Too Cool 50K website results Sunday evening.